How to Be a Successful Online College Student
Transitioning from a traditional classroom to a digital one is becoming more and more common for people seeking a degree. Online college courses present their own unique set of challenges that can seem daunting for students unfamiliar with the idea, as potential students wonder how to be a successful online college student.
Don't be intimidated though, the same skills that you have learned in traditional classrooms will translate to success as an online college student. There's no real secret here – if you have good habits like regular studying and working ahead on projects, you will most likely be successful no matter what type of college you decide to attend.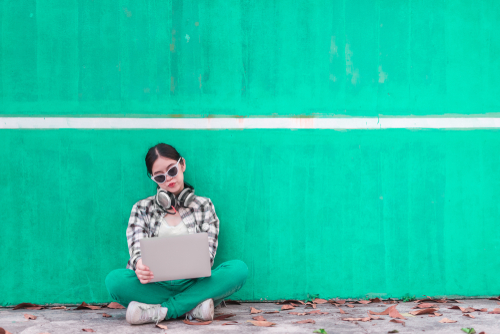 Traits of Successful Online Students
There are a few character traits that may fit better with the style of online education. The primary key to success as an online college student is your own self-motivation. Because it is up to you whether or not you log on and do the work, you must be able to stay on task and not procrastinate. If you are a highly motivated person with great self-discipline, you will accomplish your goals as you attend college online.
Another trait you'll need to be a successful online student is a strong desire to learn. This is the same no matter what type of classroom you're in, but it is particularly true for online courses. Focus on the "why" of your desire to learn – what is the driving factor behind your educational pursuits? Is it more career opportunities? To satisfy intellectual curiosity? No matter the answer, don't lose track of it while you're in the trenches of coursework. This will help you reach the finish line and cross it triumphantly.
Successful students in all types of educational environments share the common traits of self-motivation and intellectual curiosity, as well as a strong independent streak. Online classes are great for people who like to be in control and in the driver's seat. Independent learners thrive in these types of environments. These same traits that you have honed throughout your educational career will serve you well as you step into the online educational arena.
5 Tips for Successful Online Students
1. Create a regular schedule and make sure that you do the coursework! It may seem silly to say, but students can often fall into the trap of procrastination and forgetfulness when classes occur behind a computer screen. While online courses come in many different formats, the basic truth is you must participate to succeed. Planning out your daily coursework and study time is a great way to keep yourself on track in your online classes.
2. Create a relationship with the professor who is teaching the class. It's easy to sit back and be anonymous behind the screen, but you can fast track your success by reaching out to the professor either in group chats, message boards or through the academic email address provided. Be sure to ask questions!
3. Be engaged with other students in the class. On more traditional campuses, you'll often come across groups of students studying together and helping each other succeed. This can still happen in a digital classroom! Try reaching out to your classmates and use tools like messaging and video calls to study together.
4. Manage your calendar and pay attention to deadlines. It is easy to forget that homework is due at midnight or the test link expires at 3pm when your classes happen on a computer. Successful online students are the ones who are diligent to stay on top of their homework and make sure they turn everything in on time.
5. Use the resources that are available to you. Be sure to look around in your online classroom and see what your professor has shared. The university you select likely provides a variety of resources as well – be sure to check out their online library. This library will most likely have things like academic journals and ebooks that can help you in your research. Another wonderful thing about using technology to learn is that you can search for threads and forums about your class and probably find some answers and insight from previous and current students. You may even be able to find online flashcards that cover the subjects that you need to learn! There is so much information available digitally. Taking the time to look for it will help you succeed.
Online College Courses
Online courses offer the flexibility and affordability that works well for many students. The price of college tuition seems to keep rising, leaving financial aid unable to spread as far. The good news is that online college courses are the perfect solution to these issues! Since you don't have to pay for things like meal plans and parking permits, online classes are often more affordable for students on a budget.
Flexibility with your daily schedule is another great benefit of taking online courses. Online courses are easy to fit in around your work or other responsibilities. The traditional format of dedicating 2-4 years of your life living on or near a college campus and spending many hours per day sitting in a classroom just doesn't make sense for the fast pace of today's society. Depending on how the class is structured, you will be able to attend lectures and participate in discussions when it's convenient for you.
Online courses are also accessible to anyone with access to a computer and the internet. Traditional classrooms can sometimes lack adequate accommodations, like desks for students with mobility aids or transcripts of audio information for students with hearing impairments. With classes offered online, the power of technology makes a quality education accessible for anyone who wants to learn. Students with learning disabilities or related disorders like ADD/ADHD may also find that online classes are better suited for their individual needs.
Online Criminal Justice Degree
Online criminal justice degrees are a great option due to the wide variety of careers that are available to students who graduate with one. From jobs like forensic nurses to police officers to cyber security positions, there are many interesting ways to apply your degree. This path also opens the door to many options for graduate school and post-graduate work. Interested in becoming a judge? Criminal justice gives you a solid foundation for that and many other exciting jobs.
As a criminal justice student, you will be taking classes in subjects like criminal law, statistics, corrections, methods of research, and many special topics. If you discover a particular area that you are fascinated by, you may be able to specialize in that branch of criminal justice. There are many different types of criminal justice degree paths, so be sure to consult with your academic advisor to find the perfect fit for you.
Another great thing about criminal justice degrees is that you can find jobs with any level of degree. There are associate's degrees, bachelor's, master's, and doctorates available with plenty of opportunities for each. With an associate's degree, you will be equipped to work in professions like policing or immigration. Bachelor's open the door to a broader field with careers like information security analyst or a federal agencies like the FBI. Master's and doctorates help you specialize and advance in your chosen field.
Online Schools for Criminal Justice
Liberty University is a non-profit university located in Virginia. Consistently ranked in the top five online colleges for accessibility, affordability and academic quality; Liberty offers a Bachelor of Criminal Justice that can be completed online. The flexibility of their online criminal justice program is quite convenient, with no set login times and eight different start dates each year. It takes 120 hours, but only 30 hours must be taken through Liberty, so you can transfer in up to 90 hours of coursework if you already have some college credits. The undergraduate tuition rate for the 2017-18 academic year is $455 per credit hour for part-time students and $390 per credit hour for full-time students. The graduate tuition rate for the 2017-18 academic year is $615 per credit hour for part-time students and $565 per credit hour for full-time students. Liberty University's online program offers students the chance to learn the entire criminal justice system from top to bottom. With a practical approach and multiple specializations, students can prepare for their own chosen career path.
Southern New Hampshire University
Southern New Hampshire University is a college that wants to see students succeed. Their online program offers students access to faculty members with firsthand knowledge of the criminal justice field. With interesting classes like Emergency and Disaster Management and Psychopaths, Sociopaths and Serial Killers; SNHU has plenty of options for students to choose from. One of the best parts of SNHU is their affordability. The online undergraduate programs are only $320 per credit hour, and $960 per course (subject to change). Their tuition is typically one of the lowest in the nation, and they have financial aid available as well.
Colorado State University Global Campus

Colorado State University Global Campus has designed professionally relevant degrees for working adults that are offered fully online. Their tuition rates haven't increased in six years, and they offer a tuition guarantee – that your rates won't go up while you're an active student. Their undergraduate rates are $350 per credit and graduate is $500 per credit. At CSU-Global, the Bachelor of Science in Criminal Justice offers students the chance to learn about both traditional subjects like the justice system and contemporary issues like cybercrime and technology. CSU-Global also offers the ability to specialize in a particular area, if you have an interest in a related topic like criminology or criminal forensics. With customization and affordability, this is an ideal program for students looking for a great deal on online education. You'll gain experience and knowledge at CSU-Global that will prepare you to enter the criminal justice field.