County Sheriff / Deputy Sheriff
Becoming a county sheriff or deputy sheriff can be an excellent way to serve your county, take on an expanded list of police duties, and develop an intricate understanding of laws and statutes in your county. We hope that you will examine this career possibility if you want to enter police work. Especially if you live in a rural or smaller community; this can be a good goal to have in your career.
---
<!- mfunc feat_school ->
Featured Programs:
Sponsored School(s)
<!- /mfunc feat_school ->
County Sheriff Job Description
County sheriffs often serve areas that may be too small or underfunded to have their own police departments. As a result, you may travel all over the county to which you are assigned and answer calls, perform welfare checks, and keep the populace safe. Deputy sheriffs may also work around the county, but you may also work in your area jail in this position. Deputy sheriffs often take on many of the same tasks as police officers. You may spend much of your time covering a particular area and answering emergency calls.
As a sheriff, you'll need to be flexible, quick-thinking, and able to adapt to many types of critical situations. This may also entail the ability to work long or irregular shifts. Depending on the coverage at your sheriff's station, you may be expected to work nights, weekends, or shifts that last longer than the traditional eight hours. As city police stations deal with budget cuts many policing tasks are shifting to local sheriffs.
While your work days may be filled with many different duties, these duties may change from day to day. Specific duties may differ between stations. The Spartanburg Sheriff Office requires sheriffs to perform the following duties: patrol an assigned district, investigate and report accidents, interview witnesses and victims, apprehend and arrest law violators, serve warrants, serve as witness in courts, and more. They note that physical strength and agility are important, as you may need to use force in certain situations, pursue people on foot, and break through walls or barriers.
The investigative work of sheriffs can often lead to positive change within a community. The Indy Channel reports that the Johnson County Sheriff's Office issued a warning to parents after a man in a van tried to lure in a young child. As a sheriff, you must constantly be on the lookout for dangers such as these and always be ready to involve the public when necessary to protect citizens and uphold the law.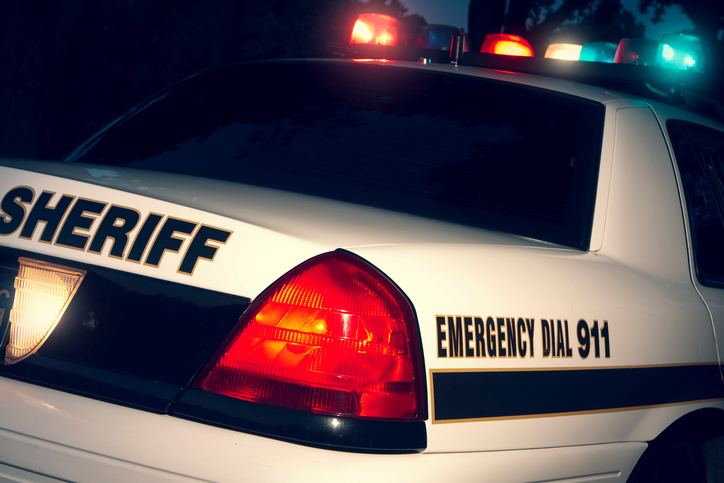 How to Become a County Sheriff / Deputy Sheriff
To become a county sheriff or deputy sheriff, you may need a combination of relevant education and experience. It's likely that you'll need to complete a law enforcement training course at a local community college or at your local police academy. To be eligible for a sheriff position, you may need to complete a specific amount of work experience as a police officer. Some areas require additional training after you accept a position; for example, you may need county-specific training that prepares you for employment in your area.
It's clear that county sheriffs and deputy sheriffs take on a large amount of responsibility, which is why most sheriffs' offices require intensive education for those that take on sheriff duties. They will check to see if you have the required educational credentials. At minimum, you'll need to complete a basic law enforcement training program. Some sheriff's offices require you to complete this training at their designated police academy, but most will accept training done at an approved technical or community college. Since some employers require a specific amount of training hours, you may want to ensure that the school you choose includes enough training.
In general, basic law enforcement training takes less than six months. For example, the program at Rowan-Cabarrus Community College lasts for 18 weeks and includes 654 hours of training. These training programs can be fairly rigorous, so you may need to spend 30 to 40 hours per week in class. You can also opt to earn an associate degree in criminal justice, which can be a great option for some students. The average student completes an Associate's degree in criminal justice in two years.
Course Requirements
Basic law enforcement training may include a variety of courses that prepare you to make traffic stops, answer different types of emergency calls, and work efficiently with people in the community. At the University of the District of Columbia, the basic law enforcement program curriculum includes legal concepts and terminology, crime scene investigation and forensics techniques, critical thinking, identifying patterns and root causes of crimes, and more.
You may also learn about crisis management, which covers a variety of situations, from working with drug-addicted individuals to domestic abuse and mental health issues. Crisis management courses may teach students how to handle different types of crises without unintentionally elevating a situation.
You will also likely take courses in security procedures, which offers an in-depth look at ensuring the security and safety of homes and commercial buildings. Classes in criminal law prepare you to work with apprehended suspects in a legal and respectful way, while firearms training covers the safe use of guns.
County Sheriff Salary and Career Outlook
According to the Bureau of Labor Statistics, the job outlook is bright for those who wish to become sheriffs. Their estimates indicate an average salary of $59,560 per year for sheriffs.
However, sheriff salaries vary widely from state to state, depending on cost of living and job demand. California sheriffs often earn higher salaries; the BLS reported an average salary of $87,520 per year for California sheriffs. In Illinois, the median salary was $68,500 per year. The average 2017 Texas salary of $53,940 is slightly lower than the national average. Due to the fact that sheriffs are public employees, salary information in your area is likely publicly available.
Since sheriffs are employed by the county, they can take advantage competitive benefits packages and regular salary increases. As a county sheriff, you may get a pension and county insurance benefits. As you gain experience in the position, you may receive regularly schedules salary increases for each year of duty.
If you are ready to help protect your community as a county sheriff, contact the schools listed here to learn how you can accomplish your goal!
Recommended Online Schools