Forensic Anthropology
If you have a strong stomach, a desire to do right by victims of crime, and an intense interest in the science behind crime and human biology, forensic anthropology may be the perfect criminal justice specialty for you. Violent crime is on the rise in many parts of the country, and some crimes may leave victims mutilated, unrecognizable, or left to decompose for weeks before being recovered. In the distant past, this simply meant that no evidence could be collected and the guilty criminal got away scot-free.
Now, forensic anthropologists can look at bodies in various states of decomposition or abuse and use their skills to determine how someone died, what physically happened to them before and after death, and how long they've been deceased. By using other evidence, they may even be able to determine where someone died and if there was trauma or disease present before the crime. Does a career in forensic anthropology sound interesting to you? If so, use our listings to find forensic anthropology schools and learn about programs in your area today!
What Does a Forensic Anthropologist Do?
As a forensic anthropologist, you need to have an ironclad ability to deal with violent crime and its aftereffects. You'll be called by police stations and investigators to examine corpses, put together remains, or answer questions about the life a person led before they died.
Typically, forensic anthropologists are only called in for cases where foul play is suspected. As a result, forensic anthropologists' come into close contact with corpses that have been subjected to torture, rape, brutalization, and other unthinkable crimes. No matter what your feelings are on a case, you must be able to maintain your professionalism and report the facts. Forensic anthropologists are rewarded with the knowledge that they're helping make their community a safer place.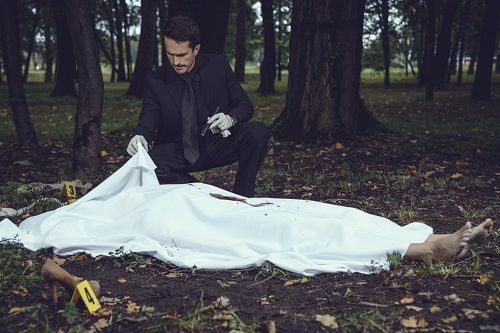 How to Become a Forensic Anthropologist
If you want a career as a forensic anthropologist, here are the basic steps:
1. Complete the appropriate college undergraduate degree(s).
You'll need a bachelor's degree in physiology, anatomy or anthropology, although an undergraduate degree in biology, chemistry, math, or forensic science can also provide good preparation.
2. Complete a graduate degree.
A forensic anthropologist is called upon to apply advanced knowledge and skills in medical and legal situations, so to move beyond a technician's position you'll need at least a master's degree in forensic, biological, or physical anthropology. Most positions will require a PhD.
There are a limited number of jobs for forensic anthropologists, so even if the position you're applying for doesn't require a PhD, having a doctorate can give you an advantage over other candidates in this very competitive field. Those who want to teach or do forensic anthropology research in academia will also find a doctoral degree is needed.
3. Gain the appropriate work experience.
An internship with a law enforcement agency or medical examiner's office can provide valuable real-world experience and teach you how and when to apply what you've learned in the classroom, and can be a great bridge to your first job as a forensic anthropologist.
4. Find a mentor.
If you can, find an osteologist (an anatomist who is skilled in the study of bones) willing to be your mentor and help guide you because you'll need a solid background in physical anthropology and osteology. Learn how to analyze bones and to understand what interpretations and explanations can be made from your analysis, as well as how it applies in every context.
5. Join professional organizations.
Join a professional organization such as The Society of Forensic Anthropologists (SOFA). Most people in professional careers join organizations that help them stay current in their field, contribute to their professional development, and provide opportunities to network with others.
6. Get a professional certification.
You may also want to consider post-graduate certification, such as that offered by the American Board of Forensic Anthropologists (ABFA).
7. Find a job.
Forensic anthropologists typically work in law enforcement, government agencies, the armed services, academia, or private consulting firms. The amount and type of experience required can vary greatly depending on the job. The majority of forensic anthropologists are employed by academic or research institutions. They also consult on cases when needed.
Undergraduate Degree Options
The first step is earning a bachelor's degree. This is probably the most flexible step of your education. You should consider majoring in a relevant field like criminal justice, human biology, anthropology, or forensic science. These majors can give you the criminal justice or human biology background you need to thrive in a forensic anthropology degree.
Consider taking courses like Human Biology, Anatomy & Physiology, and Introduction to Forensic Science, regardless of your degree choice. This step of your education may take about four years.
Master's Degrees in Forensic Anthropology
The next step in your career path is earning a Master of Science in Forensic Anthropology. This degree program delves into specific subject areas and skills you'll need in this career. Though the full program curriculum varies between schools, you can plan on taking similar courses no matter which school you attend.
You may take classes like Bioarchaeology, Experimental Design for Forensic Anthropology, Mortuary Archaeology, Advanced Osteology, and Expert Witness Testimony. You may also take classes that focus on outdoor crime scenes, field methods, thesis development, and biological anthropology. This degree has a significant hands-on component, so you may work at constructed crime scenes, look at pictures, and use models to hone your skills. If you attend school full-time, you may be able to earn a master's degree in two years.
Doctorate Degrees in Forensic Anthropology
In many cases, a PhD is required. Earning a PhD can be time-consuming, so it's important to plan ahead. Most students take between three and seven years to write and defend their thesis. To earn a PhD in forensic anthropology, you'll need to choose a specialty area of study in this field, research it, and write a thesis under the guidance of your advisor.
To prepare to become a forensic anthropologist, you'll want to understand biological anthropology theory and study the physical aspects of crime scenes, such as bone identification, facial reconstruction techniques, data analysis to determine sex and gender, and decomposition patterns. You may want to choose a PhD program in forensic, biological, or physical anthropology.
Courses in a doctoral forensic anthropology program might include:
Human Osteology – a study of the methods of interpreting the human skeleton. You will learn how to identify human skeletal elements, assign age, biological sex, and geographic ancestry.
Outdoor Crime Scenes – training in the techniques of the recovery of human remains to maximize evidence recovery at outdoor scenes.
Forensic Serology – the identification of body fluids of forensic interest, including blood, semen, and saliva. Sources of false positive and negative results will also be examined.
Field Methods in Forensic Anthropology – methods of forensic anthropology through the examination and analysis of human skeletal remains; examine and document skeletal lesions indicative of disease and trauma.
Forensic Anthropology Salary and Career Outlook
The general job outlook for forensic anthropologists is very positive. Between 2016 and 2026, O*Net expects job openings for anthropologists to increase faster than average when compared to other occupations. It's difficult to say how this pans out to forensic anthropologists specifically, since forensic anthropology is a highly specialized job. The job outlook does tend to be better in places where there are robust police stations and crime laboratories.
Across the country, the average salary for a forensic anthropologist is $63,190 per year (O*Net, 2017). However, it's helpful to look at where you plan on living and working to determine a potential salary range. O*Net indicates that the average salary for a Texas anthropologist is $65,920 per year. In New York, the average salary is slightly higher than the national average, at $85,210 per year (O*Net, 2017). The average salary for an anthropologist in California is $65,050 per year (O*Net, 2017).
Forensic anthropologists usually have expertise in multiple disciplines such as document analysis, DNA, fingerprinting, and firearms identification. Because of their expertise, education, experience, professional affiliations, and published works they may be called to testify as expert witnesses during criminal trials.
Successful forensic anthropologists are analytical and detail-oriented, able to identify and link evidence to a suspect or crime scene. They use critical thinking to pick apart bits information and are able to connect seemingly disparate pieces.
Forensic anthropologists may also benefit from a strong stomach and an ability to remain somewhat emotionally detached since they will likely be examining remains of murder victims.
Careers Similar to Forensic Anthropologists
Forensic anthropology is only one of the many forensic science careers you can choose to pursue. Below, we discuss a few others that are similar to forensic anthropology that you might want to consider:
Forensic Science Technician
Forensic science technicians often go to crime scenes to collect evidence. Working in the lab, they run a variety of tests and use their unique knowledge and skill sets to analyze the results. Then they summarize their findings and present it via written reports. There may also be times when they're asked to make a verbal summary or presentation. These technicians play an essential role in resolving criminal matters.
Forensic Serologist
Serology is the scientific study of serum and other bodily fluids. Forensic serologists are specialists who study blood, urine, saliva, semen and other fluids left at crime scenes to help investigators solve crimes. They help identify potential suspects and the probable sequence of events. They often work for law enforcement agencies at the federal, state and local levels.
Forensic Pathologist
Forensic pathologists often hold the title of medical examiner. They're responsible for determining the cause and manner of death. Using all of the available information, they decide whether the event was a homicide or suicide, whether death was accidental or from natural causes, or whether it can't be determined given the evidence and facts and has to be declared unknown.
Forensic Toxicologist
Toxicology is known as the "science of poisons." It's the study of chemicals on living organisms and involves studying the symptoms, mechanisms, treatments, and detection of poisoning through biological, physical, or chemical means.
Forensic toxicology combines toxicology with disciplines such as pharmacology to aid in the investigation of deaths. As science evolves, our knowledge and understanding of the effects of various toxic agents on the body continues to progress.
Jobs are typically found with local, state, or federal law enforcement agencies, crime labs, coroners' offices, hospitals, universities, or independent forensic and science consulting firms.
FAQs
What is the purpose of forensic anthropology?
Forensic anthropology applies the study of physical anthropology and human skeletons. A forensic anthropologist applies physical anthropology scientific techniques to help determine the identity and/or cause of death of a person when only skeletal remains are available, often in criminal cases.
How many years does it take to become a forensic anthropologist?
The real answer is, "it varies." While there are forensic anthropologists with an MS degree, most have PhD's. The typical time frame to obtain a BS degree is four years. Getting a master's degree averages two to three years, and the time needed to complete a PhD can vary significantly. Some people finish in three to four years, others take five or more years due to multiple variables including finances, family situations, and the time needed to collect data, analyze it, complete needed research and write a dissertation on their chosen subject. So, from an education perspective, you're looking at 9-14 years of formal study. Additionally, you'll need to gain experience in applying what you've learned to real-world situations.
Why is forensic anthropology important?
Forensic anthropologists bring a unique perspective to solving a death investigation that would otherwise go unresolved. The main focus of a forensic anthropologist is to process crime scenes, examine and process remains, develop a biological profile, compile appropriate documentation, and testify in court. Their unique knowledge and skills provide law enforcement with expert answers and conclusions that aid in closing cases.
Forensic Anthropology Resources
Recommended Online Schools