ATF Special Agent Degrees and Careers
Becoming an ATF special agent requires you to work with some of the most dangerous items in the country. The Bureau of Alcohol, Tobacco, Firearms, and Explosives hires agents to take care of crimes that deal with these four areas. The ATF has locations all over the country, so you may end up working in many different parts of the United States.
There are many career paths in the field of criminal justice that you can purse if you are interested in this type of work. Contact the schools listed here to request information about their programs today!
---
<!- mfunc feat_school ->
Featured Programs:
Sponsored School(s)
<!- /mfunc feat_school ->
ATF Special Agent Job Description
As an ATF special agent, you may spend most of your time investigating crimes that break federal laws. On top of alcohol, tobacco, explosives, and firearms, you may also investigate arson. Investigative procedures may require you to collect evidence in a variety of ways. You may have to interview suspects, conduct property searches, seize illegal goods, and even go undercover. Throughout the course of conducting an investigation, you may be expected to testify in court on behalf of the federal government.
If you enjoy excitement, a constantly-changing work environment, and the feeling of serving your country, you may thrive as an ATF special agent. Some of your work may mean the difference between life and death; in April of 2018, it was reported that ATF agents are searching for 704 pounds of stolen dynamite. Depending on which unit you are dispatched to, some ATF agents spend time working with those who have access to dangerous explosives and firearms.
The typical hours of the ATF are 8:30am – 5:00pm, Monday through Friday. Crime happens at unexpected times, though, so you may be expected to work weekends, evenings, and holidays. This is why the agency offers a 25% increase in pay; it compensates ATF special agents for the extra hours worked. ATF special agents also work with local law enforcement agents and other parts of the federal government quite often to ensure the country is kept safe from any and all threats.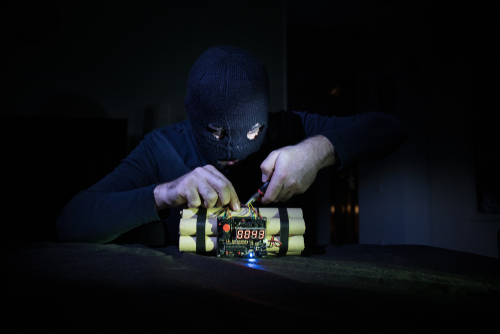 How to Become an ATF Special Agent
As you may expect, there are quite a few requirements for those that wish to become ATF special agents. Depending on which level you want to get hired at, you may need a bachelor's degree, a bachelor's degree and one year of graduate school, or a master's degree. You can also use experience in place of education if you have relevant law enforcement or criminal justice work experience.
You can become an ATF special agent at three levels: GL-5, GL-7, or GL-9. Your beginning salary increases at each level. To become a GL-5 ATF special agent, you need a bachelor's degree in any subject. If you want to qualify with experience, you need three years of experience that demonstrate your ability to work in law enforcement or criminal investigation.
The GL-7 level requires a bit more in the way of education or experience. Like the GL-5 level, you need a Bachelor's degree in any field of study. However, you must have also completed at least one year of graduate-level education. If you display Superior Academic Achievement at the Bachelor's degree level, you can qualify for a job at this level. Superior Academic Achievement can be displayed in many different ways. This includes a GPA of 2.95, graduating in the top third of your class, or possessing membership in a national honor society. Having highly specialized work experience in criminal justice or criminal investigation may allow you to bypass these educational requirements.
The top tier of ATF special agent jobs is GL-9. This may allow you to earn considerably more money than those at the GL-5 and GL-7 level. You need a master's degree in sociology, psychology, criminal justice, or political science. Certain related degrees may also be appropriate. At least one year of work experience in criminal investigative methods, computerized business and accounting systems, or crimes involving fraud can take the place of the master's degree.
Newly-hired ATF special agents must attend the Criminal Investigators Training Program at the Federal Law Enforcement Training Center in Georgia. Your training program may last about 12 weeks. Your education may include firearms safety, firearms trafficking, arson investigations, alcohol and tobacco diversion investigations, and report writing. It is a very physical program, so it's important to be in good shape before you attend.
ATF Special Agent Salary and Career Outlook
It can be difficult to look at the career outlook for this job, since it is such a specific job title. In addition, the needs and hiring abilities of the agency vary from year to year based on the federal budget. However, as crimes involving firearms, tobacco, explosives, and alcohol increase, the agency's hiring needs may increase.
Since federal jobs can be relatively competitive, you may want to take extra steps to make yourself as qualified as possible for an ATF special agent job. Consider earning a bachelor's degree in psychology, sociology, criminal justice, or a similar field. Seek out internship opportunities that give you practical experience in the criminal justice field.
Per the Bureau of Alcohol, Tobacco, Firearms, and Explosives, starting salaries in 2016 for ATF special agents range from $34,865 to $57,093 per year. Agents also receive locality pay that is dependent upon where they are stationed. Currently, locality pay ranges from 14.35% to 35.18% on top of your base salary.
Learn more about pursuing a career in this exciting field! Contact the schools listed in our directory to learn more about their programs today!
Recommended Online Schools