Criminal Justice Graduate Jobs
A graduate degree can bring new opportunities, but getting a master's degree requires investments of time, money, and effort. If you do some career planning and learn about the types of criminal justice graduate jobs available, you can make an informed decision as to whether or not it's the right move for you.
<!- mfunc feat_school ->
Featured Programs:
Sponsored School(s)
<!- /mfunc feat_school ->
What Can You Do with a Master's in Criminal Justice?
A graduate degree in criminal justice or criminology is valuable if you're interested in law enforcement, detective work, or other positions involving criminal investigations, such as forensics, security, emergency management, or academia.
If you want to advance your career or move into an upper management position, the knowledge and expertise you gain obtaining a master's degree will set you apart and can be an asset throughout the candidate assessment process.
A quick online job search for criminology master's jobs yields hundreds of results showing a wide variety of job titles and geographic locations. So if you're interested in becoming a criminologist, a criminal profiler, forensic psychologist, college-level instructor, or moving into a high-level management job, consider getting a master's degree in criminal justice.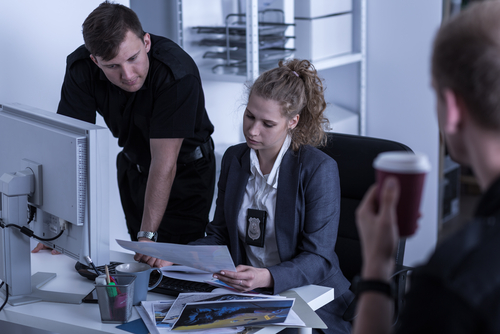 5 Great Jobs for Criminal Justice Master's Degree-Holders
1. Supervisory Criminal Investigator
Criminal justice supervisors work in management-level positions in police departments, in federal and state agencies, and in the private sector. They oversee criminal investigations and assign cases to investigators and detectives. They determine when forensic technicians and other support personnel should be called to a crime scene and may work on high-level cases.
Supervisory criminal investigators provide oversight to assure that investigations follow the law and are in compliance with departmental policies. They review paperwork and reports for thoroughness and accuracy knowing that they can be critical to a prosecutor's case.
2. Federal Agent
People who hold a master's degree in criminal justice work in federal agencies such as FBI, DEA, DHS, and others. The focus of a job and its responsibilities depend on the agency and the position held.
Federal agents work on criminal investigations that may involve terrorism, drug or human trafficking, illegal immigration, white collar crimes, and more. Some positions are based in an office, some are out in the field, and some may be a combination of field and office work. Travel may be required.
Jobs as a federal agent are highly competitive. Most people hired for these positions typically have substantial professional experience, skills, and a graduate degree.
3. U.S. Marshal
The U.S. Marshal Service executes federal arrest warrants, handles fugitive operations, and operates the witness protection and prisoner and alien transportation programs.
A U.S. Marshal performs both basic and high-profile law enforcement duties. They may be involved in a variety of operations to bring criminals to justice, including completing paperwork and writing reports. These duties may be performed in an office, courtroom, prison, or in the field. Jobs may include travel.
4. Security Management
The focus of security management is preventing crime. Security professionals safeguard people, property, and information from different types of threats. They manage teams and protect assets, collaborating with local law enforcement when situations call for cooperation.
Management opportunities exist in both the public and private sectors for those with a master's degree in criminal justice. Individuals placed at this level of security management devise plans, make decisions, handle emergency situations, provide consulting services, and assist in developing and implementing policies.
5. Criminologist
Criminologists focus on the causes of crimes. They study crime and make recommendations to law enforcement. They draw on insights and theories from other disciplines, including psychology and sociology, to help shape public policy.
Criminologists gather information, compile interviews, and create reports to advance understanding of crime and help develop effective ways to address it.
Criminologists may work in law enforcement in the public or private sectors. They may work in the field or in more traditional research settings in academia.
Master's in Criminal Justice Jobs: Salary and Job Growth
All of these jobs are expected to grow at a rate of 5% to 9% from 2016-2026, faster than the average for all occupations.
Source: Bureau of Labor Statistics 2017 wage data
2016-2026 employment projections
July 08, 2018.